IntroPage
These pages contain the history of my family as discovered so far from it's origins in Cranleigh, Surrey.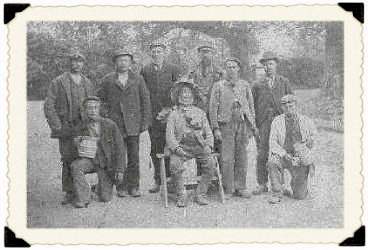 Seated in the centre of this photograph is Frederick Strudwick, my Grt.grandfather(1824-1902) He appears to be wearing what the "Harvest King" would have worn at the end of harvest celebrations.
At first I thought he was wearing the regalia of a Morris Dancer, as a reference is made in the book "More Tales of Old Surrey" * of "Master Strudwick" a morris dancer from Puttenham.
In fact, Fredericks father, James Strudwick, was a "Morris Dancer". For this story click: JasStrudPage
Kneeling on right is his son Mark, my Great uncle, with a "Harvest Jug" This was for the "ale" they were given at the end of harvest.
Click here for next page: FamHistory1
Back to beginning page: default.htm
*More Tales Of Old Surrey by Matthew Alexander: OldSurrey1
01/04/11