Introduction: Strudwick History.
If you are interested in genealogy, and in particular, the STRUDWICK name, you will be able to find out about it's origins here.
The Strudwick "Blazon of Arms"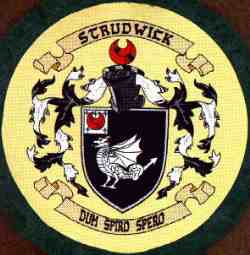 The Blazon of arms is: Sable a wyvern argent on a canton ermine a crescent gules.
Which in plain English, the wyvern, or dragon, was believed to possess a keen sense of sight and represents a Valiant Defender of Treasure. The crescent, which resembles a half-moon, is associated with Faith and Hope. It was used by the Crusaders to show defeat of the Turks.
The surname of Strudwick, which used to be spelt in many ways, dates back for some 600 years. The surname of Strudwick, is quite unusual. It probably originated near the present county boundaries of West Sussex and Surrey and, was first used as a place-name, being derived from these two Old English words - strod (pronounced "strode") which means marshy place and -wic = farm or dwelling. In the penguin dictionary, surname meaning is given - "dairy farm in marshy bushland"
In A.D.956, a place called "strod wic" appeared in an Anglo Saxon charter, granting some land near Steyning. At Kirdford, West Sussex, in 1330 there was a reference to "Boscus de Strodwike", and later in 1340 reference was made to "Strodewykeswood in Kyreford". Later this became known as Strudgwick wood.
The name is recorded in the early 15th century in three adjacent parishes of Chiddingfold and Hambledon, Surrey, and also Kirdford, Sussex. Three of the earliest are recorded in Chiddingfold with a fourth recorded as a tax collector, John Strudwick, 1430 who lived at Hambledon.
The Strudwick's were most abundant in the period 1550 - 1650 in the parish of Kirdford, Sussex, with three yeomen families and, one of these living at Hills Green, Kirdford, there were eight resident servants, including four Strudwick's.
At this period Strudwick's owned 1500 acres and were using 22 farms, with about one third of the total in the Kirdford parish. They also had interests in glassmaking (c.1557 - 1614), in iron forging ( c.1584 - 1662), and in timber. G.H.Kenyon, the Kirdford historian notes. The family attained a position no other Kirdford farming family has approached during the last 400 years.
They owned three main houses in Kirdford. Crouchlands until 1662, Hills Green until 1689 and Idehurst until 1707.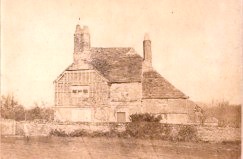 Crouchlands Farm House c. 1880's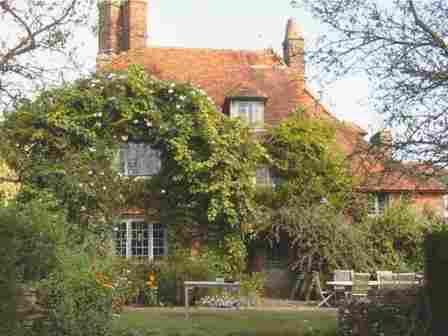 as today.
Idehurst, as seen today.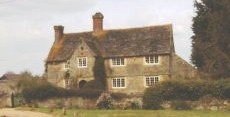 Read about Valentine Strudwick "The good soldier" Valentine J
"The Kirdford Inventories" Invent1Page
How "The Oaks" horse race got it's name TheOaksPage
Discover "Strudwick Businesses" StrudBusinesses
Garry Strudwick's Genealogy Website The Sunstruck Forest
The Narrow boat "PAJANT" The narrowboat
Back to beginning page: index.htm